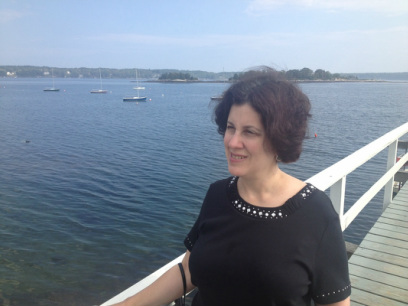 Dana Robbins, Biography
After graduating from Wellesley College with a B.A. in History, Dana Robbins received a J.D from Columbia University and practiced law unhappily for 28 years. When she could stand it no longer, she retired and moved to Portland Maine where she pursued a lifelong interest in poetry in the Stonecoast Writers program, graduating January 2013 with an MFA.
Dana recently published her first book,
The Left Side of My Life
with Moon Pie Press of Westbrook, Maine.
www.moonpiepress.com
.
Dana's poem, To My Daughter Teaching Science was read by Garrison Keillor on The Writers Almanac November 13, 2015 www.writersalmsnac.org.
Her poetry has appeared in Drunken Boat, Museum of Americana, The Rotary Dial, The Write Place at the Write Time, OLLI Review and the Jewish Women's Literary Annual.
A number of Dana's poems have won awards: "The Apple Tree" received an honorable mention in the Fish Poetry Contest and appears in the 2013 Fish Anthology; "At the End of Day" was the winner of the 2013 Musehouse Poem of Hope Contest; "At the Beach" won the 2013 Maine Senior Poet Laureate Contest and is included in the anthology Golden Words.
Dana had a stroke at the age of 23 and writes poems and essays about healing though poetry and what it is like to have a disability. Her work has appeared in The Examined Life Journal of the Carver College School of Medicine of the University of Iowa. Dana has spoken to pastoral students at the Jewish Theological Seminary in New York City, among others. She is available to speak on the subject of stroke recovery and creative healing.
---